Compete with Customer's Experience in 8 areas
Companies struggle to compete with customer's experience
While many companies believe technology will make them more competitive, the real need is for organizational transformation. Customers compare your service with the best they ever had... from Netflix, Facebook, Amazon or Spotify. The user expects the same frictionless experience. To survive it's time to start the culture transition journey from thinking inside out to outside in and start walking in the customer shoes.

Once a customer felt and has been won over by an experience like Amazon, Spotify or Netflix, they want to know why all transactions aren't as satisfying. From travel to consumer goods to business transactions, customers expect to be recognized, heard and taken care of. Only 1% of customers feel that vendors consistently meet expectations, over 86% of buyers will pay more for a better experience.
Customer Experience is the New Battlefield
Mediocre Customer Experience is the norm and Excellent Customer Experiences is a powerful brand differentiator. In market place today customer experiences are the most untapped resources, shows Gartner studies year after year. Companies struggle to transform to an "outside-in" mindset starting in customer's experiences. Delivering on the promise of the digital revolution requires thinking more "outside in." Companies need to be built on what customers need, want and care about? We all need a customer experience strategy.
What is Customer Experience?
A Customer Experience (CX) is a Customer's perception of their rational, physical, emotional, subconscious and psychological interaction with any part of an organization. This perception affects Customer behaviors and builds memories which drive Customer Loyalty and affects the economic value an organization generates.
Beyond philosophy - Building Great Customer Experiences
How do your company position in the Customer Experience Index? Customer Experience Index reveals brands lack human connection, according to Forrester's 2018 Customer Experience Index. Results continue to show that companies are struggling to create and sustain a human connection with their customers. The "inside out"-mindset learned in the Industrial Age prevent organizations from transforming to the Social Network Economy. That is a hopeless market fit into a hyper-competitive crowded world.
What are the barriers to compete in the Customer Experience Market?
Your organizational culture affects customer experiences. In the Industrial Age, the customer couldn't share its experiences. Only companies with a lot of money could afford to communicate. Today it's the opposite. People trust most shared experiences, customer rating and recommendations when choosing a brand to interact with and buy from. People don't like to be interrupted by paid ads and use adblocker.
The social network business landscape today is different, but companies are stuck in the linear models and continue to compete with a product, price, promotion, and place, the so-called 4P-model that Philip Kotler established as truth for how business should compete. My academic research shows that you as a business could compete in 8 areas, the 8P-model. This model explaining the success of the exponential growth of customer experiences obsessed startup, leaving the inside the value chain-companies behind.
Startup's build frictionless costumer journey just-in-time exactly when, where and how the users want and develop social platforms for users-like-me.
Starbucks doesn't compete with the coffee product, the brand competes with social spaces where people can meet likeminded and use the open internet connection to work or play together.
The user expects the same frictionless experience. To survive it's time to start the culture transition journey from thinking inside out to outside in and start walking in the customer shoes.
Companies are also stuck in the linear push model, even though customer's do not appreciate it. The use of ad-blocker increases with 94% growth year-over-year and 200 million people globally are blocking ads, shows INMA.
Philip Kotler's linear marketing model 4P:s is outdated. It's not enough to compete with products, changing prices, promotion campaigns and to be present in many places. Shared customer's experiences are the new marketing and the strategy is to optimize the customer journey together with the user.
The new battlefield for customers experiences is happening in 8 areas
The linear "inside out" thinking focus around processes and functions that might be important to the company's operations, but don't really mean anything to customers. The organizational transformation is about unlearning and relearning together to build organizational agility.
Why does management think and do the same way as they did for 30 years ago? The business and marketing strategy is grounded in Philip Kotler's linear model, a bad fit for the customers demand of I want to solve problems Just-In-Time without any waste of energy and time.
The whole organization needs to set a strategy and measure the 8 Battlefield areas for Customer Experience from the "outside in"-perspective.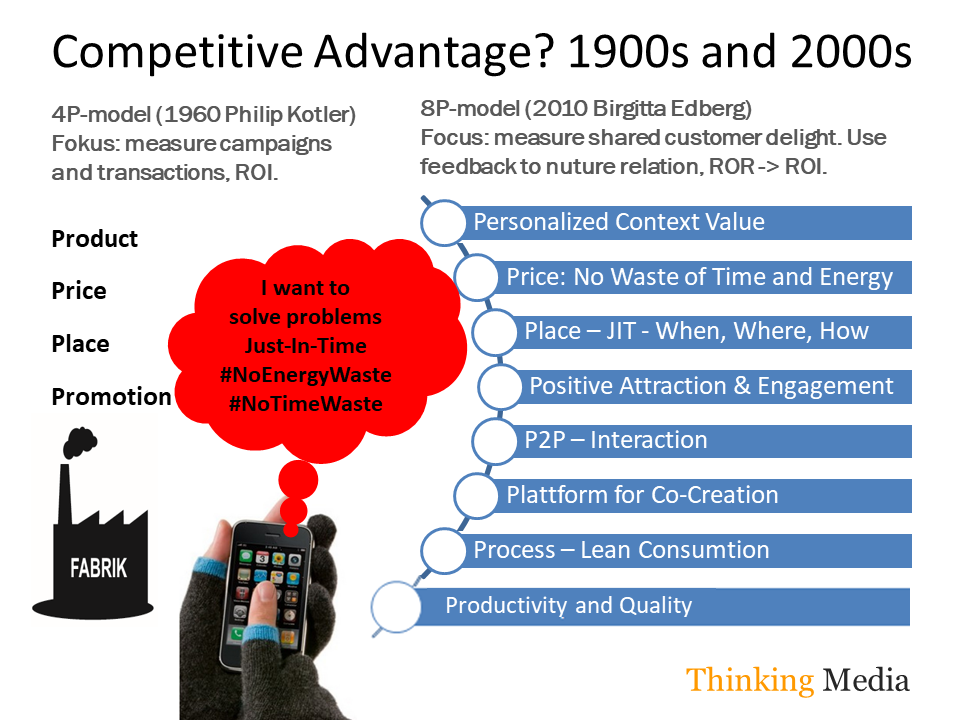 Philip Kotler's linear 4P-marketing model doesn't fit the Social Network Economy. You can't compete only with the product, campaign, and promotions. People thrive for connection, sharing life and consumption.
People to people Everyone wants to feel connected—it's part of human nature. Whether it's building relationships at home, in the community, or with friends, people like to feel bonded to each other. But perhaps it's nowhere more important than at work. A connection culture in the workplace can impact customer experience and create a place where employees are engaged and excited to be.
Every company has its own culture, whether by design or by default. The culture is the personality of the corporation, and the environment it provides. The culture is the sum of a company's beliefs, ethics, expectations, goals, values, and mission.
the company that wants its customers to be more satisfied with their service experience, needs to treat its employees as they would their customers.
Brands want their customers to be engaged and feel connected to the company. But it's hard for employees to give customers what they themselves don't have. A company won't have energetic and enthusiastic employees who connect with customers if those employees don't feel connected to the company.
Every company knows that they should prioritize improving the customer experience, the secret to success is working out how to execute on that strategy.
Real strategy lies not in figuring out what to do, but in devising ways to ensure that, compared to others, we actually do more of what everybody knows they should do.
How does management convince staff they are truly committed to improving the customer experience?
If an organization's leaders want their people to believe that a new strategy is being followed, they must establish credibility by proving that they are prepared to change themselves: how they act, measure, and reward states David H. Maister.
If people are to make the right strategic decision in every location of the firm, in every operating group, and at every level, then they must absolutely trust that management will back them up and reward them (or at least not punish them) for acting in accordance with the declared strategy.
If your organization doesn't measure Customer Experiences it's hard to compete on today's battlefield. The new growing unicorns have one thing in common, they measure and improve Customer Experiences continuously.
The Digital Evolution creates new business opportunities with increased mobility, social filtering of data, sensors, and cloud services. Think beyond the industrialism value chain and embrace the new business opportunities. Think beyond the limitations of the value chain rooted in the Industrial Age.
"The illiterate of the 21st century will be those who cannot learn, unlearn, and relearn."
Thinking Media